'Jingle mail' redux?
We wrote on Wednesday about the era of "mortgage dominance", and how fears home loans were starting to hem in central banks — at least in some countries. It's a topic we think is about to go Taylor Swift-big very soon.
Lo and behold, a new report on "the risk of mortgage defaults in a global housing downturn" has landed in our inbox, courtesy of Goldman Sachs economist Yulia Zhestkova.
The report mostly focuses on how rising mortgage rates, under-pressure property prices and delinquencies might lay out in the English-speaking major G10 economies. A bit Anglosphere-centric, but there are some token Scandinavian references [Ed: we get it, you're from Norway] and it makes sense to limit the universe of analysis to make it at least vaguely digestible.
But the impact of soaring interest rates is going to bite bigly in economies with a lot of mortgage debt, and especially in those countries where most households borrow through floating-rate home loans.
In Australia and New Zealand, over half of all mortgages will reset to higher rates in 2023, and in the UK about 40 per cent will, according to Goldman Sachs. Norwegians, look away now.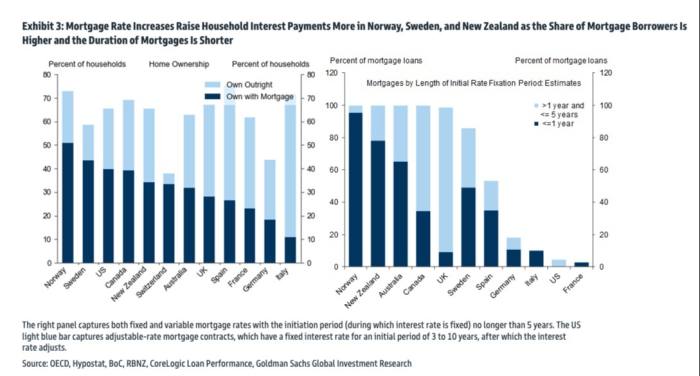 In Norway, people are at least more sheltered by strong welfare net should unemployment start to rise markedly. Other countries are not so lucky.
This story originally appeared on: Financial Times - Author:Robin Wigglesworth