Nikkei correspondents' guide to the best Japanese restaurants in Paris
With many thousands of restaurants all different nationalities in the city, Paris chefs have to keep on their toes to survive. Japanese restaurants are no exception. The ones that thrive in the French capital are likely to have distinguished offerings and first-class chefs. If you are wondering where to dine in Paris, but keen to avoid traditional rich French fare, it's worth heading to one of the many excellent Japanese restaurants across the city for some sushi, ramen or
okonomiyaki
during your visit. I arrived in Paris in 2017 as a correspondent, and was pleasantly surprised to discover that the Japanese restaurants in the city were as excellent and creative as the ones in Japan. Here is my guide to the top places to sample Japanese food in the City of Light.
And a word of advice: avoid restaurants that are overly decorated with Asian lanterns and banners and advertise cheap dining offers. They are almost certainly not authentic. 
Togo Shiraishi
Sushi Marché (16th arrondissement)
20 Rue Mirabeau, 75016 Paris
Good for: High-quality sushi at a reasonable price
Not so good for: A quiet meal – it's often busy
FYI: The owner has a sibling restaurant called Sushi Gourmet. Sushi Marché is open noon to 2.30pm and 7pm to 10.30pm; closed on Sundays and Mondays. Reservations recommended
Website; Directions
"I want to keep the prices affordable, so the restaurant is loved by local people" says Yukiharu Yagi, chef of Sushi Marché, who came to France in 1993. The set menu prices range roughly from €20 to €35 for lunch (€6 more in the evening).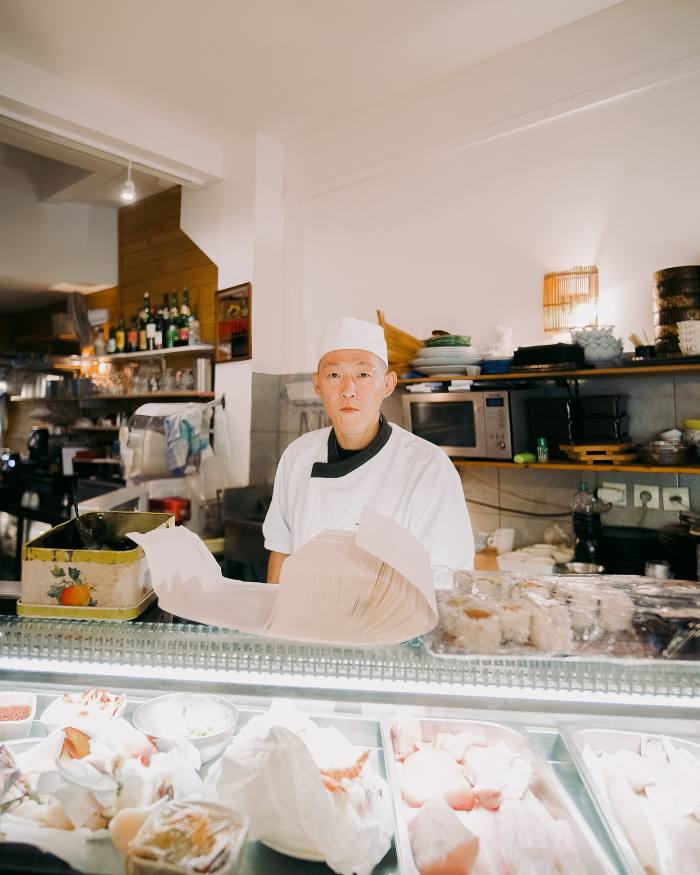 One of the chefs at Sushi Marché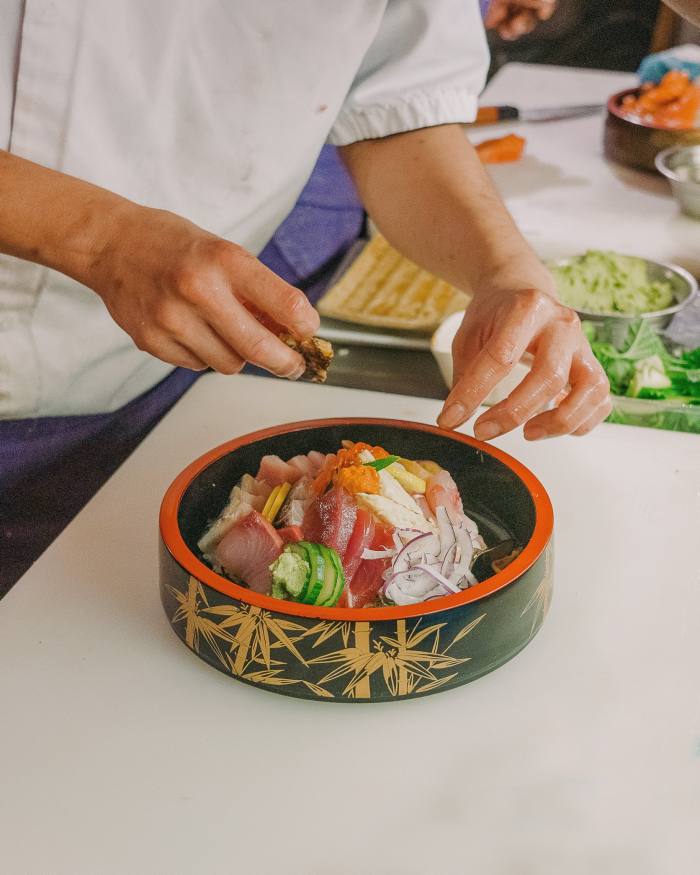 The Chirashi Royal – a rice bowl featuring several types of seafood – is a favourite of the author
My favourite dish is Chirashi Royal (€30 for lunch) – a rice bowl with more than 10 kinds of seafood, such as tuna, bass and scallop, generously covering the top. The crispy salmon skins mixed with rice create a complex range of flavours. The restaurant has a wide variety of sushi on offer too, from €6 to €9.50 for two pieces. I personally recommend the mackerel sushi, which is generally hard to find in Paris. Many of the ingredients come from Rungis International Market, the biggest fresh food market in the world, located just outside Paris.
In the heart of Paris's Little Tokyo, Michi is a discreet, traditional sushi restaurant hidden in the bustling atmosphere of the famous Rue Sainte-Anne. If the Tokyoite chef describes his work as "French-style" sushi, Michi's sushi are nevertheless among the most authentic in the city. 
Expect to be greeted with a hearty
irasshaimase
in this welcoming ramen shop. Just like in Tokyo, you can smell the scent of the broth as you walk past. Paris is blessed with diverse, outstanding multicultural cuisine, and the number of ramen shops has exploded, but Menkicchi certainly makes among the best ramen in the city and compares easily with ramen shops in Japan.
There is also a range of traditional Japanese sweets, with a sophisticated range of beautiful
wagashi
, just like in Kyoto. Order a Japanese tea to accompany – the menu has a variety of beautiful imports such as high-quality sencha, hojicha or genmaicha that are not easily found elsewhere in Paris. A must-go for lovers of delightful and unique pâtisserie. 
Enyaa (1st arr.)
37 Rue de Montpensier, 75001 Paris
Good for: Kyoto cuisine 
Not so good for: A quick meal
FYI: The restaurants focuses on small artisanal champagne houses. To appreciate the atmosphere, reserve a counter seat in advance. Open Tuesday to Saturday, noon–2pm and 7–10pm; Sunday, noon–3pm
Website; Directions
If you are looking for refined Japanese cuisine served in a traditional modern atmosphere, Enyaa is the place. The restaurant is the passion project of two wine lovers, Asuka Sugiyama and Kaï Nakamura, who decided to create a place where authentic Japanese cuisine could be enjoyed alongside champagne, sake and other alcoholic drinks. Asuka invited a long-term acquaintance, chef Daisuke Endo from Kyoto, to open the restaurant in November 2016.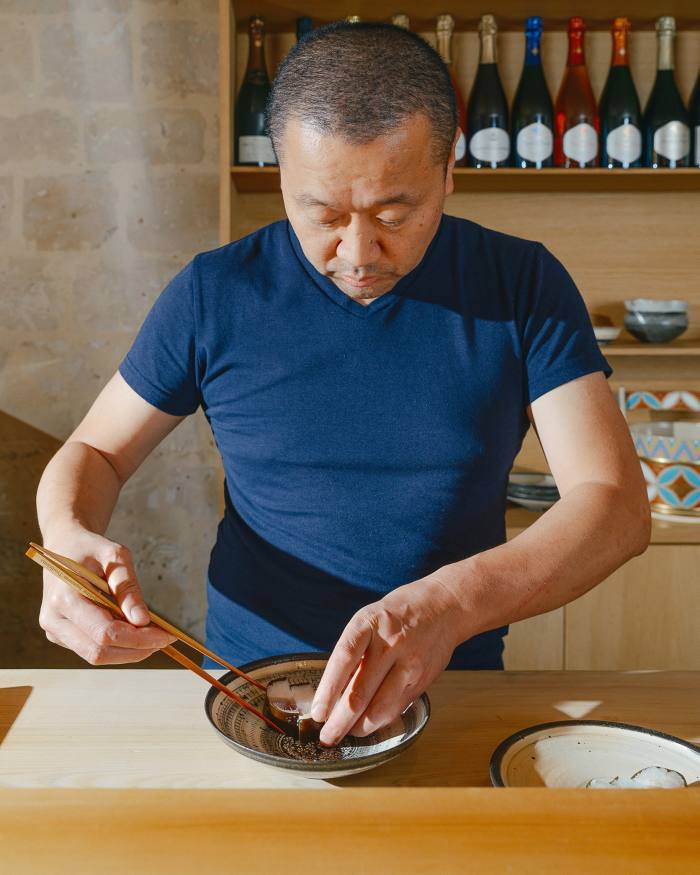 Chef Daisuke Endo of Enyaa at work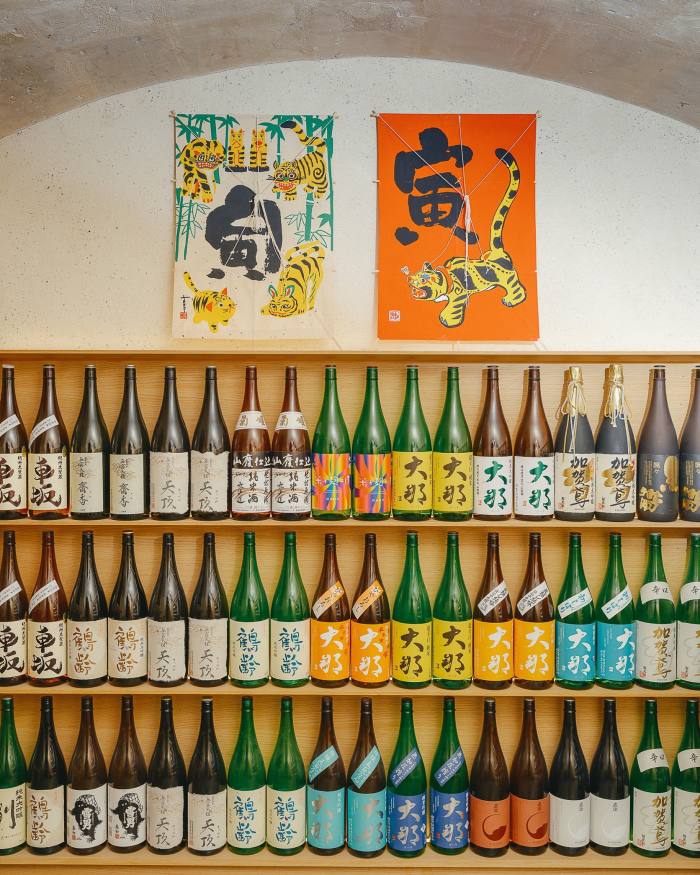 Some of Enyaa's many sakes
Since Asuka and Kaï already have a company to export wines to Japan, and they import selected sake from Japan to serve here. The sake that the duo propose are mainly dry and minerally, with umami notes that marry well with Kyoto cuisine. But if you like floral and elegant sake, the chef recommends Kaga Tobi by Fukumitsuya in Ishikawa prefecture.
The chef's specialty is
saba
sushi, which is Kyoto-style pressed mackerel sushi developed during the Edo period. Kyoto being far from the sea, mackerel caught in the Japanese sea was preserved with vinegar, wrapped in
konbu
(kelp) and pressed with vinegar rice, then transported to the city. If you want to experience the full range of Endo's cuisine, go for the Menu Découvert (€95, seven courses including appetiser, starter, soup, sashimi, main dish, sushi and dessert) for lunch, or the Menu Omakasé (€160, 10 courses, including an extra main dish and tempura) for dinner. There is the option of testing a pairing of sake and champagne: five glasses for €60 euros at lunchtime and six glasses for €90 at dinner. "Kyoto's traditional cuisine is best paired with champagne," emphasises Endo.
Pottery lovers will notice that Enyaa's dishes are served on Karatsu ware, renowned for its simple, rustic beauty. Enyaa is a restaurant that pays great attention to detail.
Tell us about your favourite Japanese restaurants in Paris in the commentThis article is part of a new collaboration between the FT and Nikkei, in which Nikkei journalists and correspondents write about their favourite Japanese restaurants in cities around the world. Up next: the best Japanese food in LondonFollow FT Globetrotter on Instagram at @FTGlobetrotter
Cities with the FT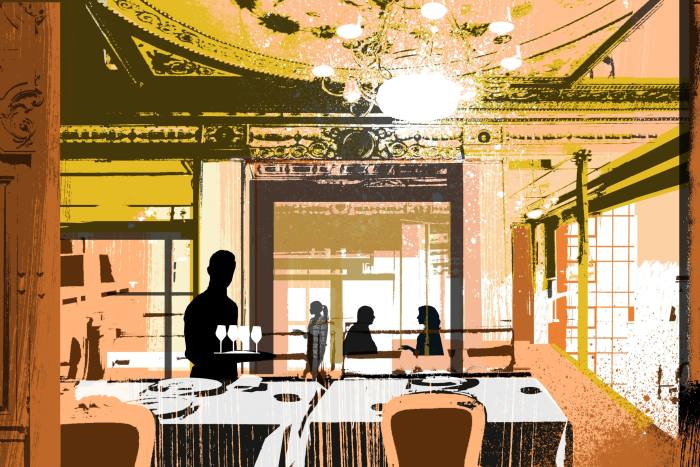 FT Globetrotter, our insider guides to some of the world's greatest cities, offers expert advice on eating and drinking, exercise, art and culture — and much more.
Find us in Paris, Tokyo, New York, London, Rome, Frankfurt, Singapore, Hong Kong, Miami and Toronto
This story originally appeared on: Financial Times - Author:Tax Cognition